This is the first post in my 'South America Blog Series!' Subscribe to my blog on my main page to keep up to date with my adventures.
As many of you know (largely because I've been banging on about it for months like a stuck record), this month I am donning my trusty (and rather gargantuan) backpack and jetting off to South America.
So why South America?
As this trip is a celebration of a massive part of our lives coming to an end (leaving behind a wonderful 5 years of vet school and entering into the scary adult world of work), we decided our chosen destination had to reflect this and be a journey we'd never forget! It was this decision which drove us to pursue South America; not only is it a continent neither of us have visited, it has a plethora of wildlife and fantastic natural spectacles (always a big driver for any vet student!), a rich and unique culture and an abundance of things to see and do. I am BEYOND excited to immerse myself in adventure and experience some new countries, the first of which is Peru.
So first a little bit of geography for you all….
Capital City: Lima             Currency: Peruvian Sol
Language: Spanish – though beware, it's unlikely to be the clean-cut Spanish you may have learnt in school, but it will definitely help to communicate your point if you have a Spanish phrase-book in tow! I've been prepping for my trip using Duo Lingo –  a great free app where you can learn lots of different languages through flash cards, interactive quizzes and games.
Borders: Brazil and Bolivia to the East, Colombia and Ecuador to the North and the Pacific Ocean to the West.
Ecology: Incredibly diverse; from barren desserts, hot sunny coastal regions, tropical rainforest and cool highlands. The two key ecological areas to note are the Andes and the Amazon Rainforest, both which run through part of Peru.
Climate: Incredibly variable depending on where you are, if planning a visit, pack both clothes for hot, sunny weather AND items for rain, wind and even snow! One thing to never leave behind though is sun protection; hats, sunglasses and sunscreen are a must no matter the temperature. The sun is that much stronger near the equator and can still cause damage even through the clouds. If you're a delicate English Rose like myself, take necessary precautions against sunburn!
Why Peru? Well, for one, when it comes to diversity, Peru is a complete over-achiever! It is one of the most varied geographical regions in the world and contains both the Amazon rainforest and the Andean mountain range. It has so much deep-seated history and culture that it's willing to share with the world and has preserved relics from some of the first known civilisations in history. Need I say more?
Preparing for Peru
In preparation for this trip I discovered how worryingly lacking in stamina I am! I've spent years dodging cardio workouts like the plague and now I have a whole holiday of trekking planned…. It's well and truly come back to bite me in the ass! To tackle this problem, I've began running and my legs are well and truly feeling the burn! It's currently a daily struggle to sit on the toilet, get up and down stairs, which when living in the attic bedroom of a 3-story house is rather problematic (though it is helping to curb my snack addiction as the kitchen is on the bottom floor…. Silver linings, right?!). But I keep telling myself that I'll be able to enjoy the trip much more if I'm fitter, so for now I'm gritting my teeth and persevering!
Click these photos to find more adventure inspiration…
Now, I can honestly say that after months of planning, hours spent scouring the bloggersphere for inspiration and about 375 lists later….I am still nowhere near ready! Our epic adventure is no longer an idea fabricated over a pot of Ben and Jerry's…. It's actually happening!!!!!! However, lucky for me, the one thing I am 150% confident about is choosing to travel with 'Peru Hop.' I stumbled across this company through various recommendations from fellow travellers and I am so excited to be experiencing Peru with them! So, what's so great about Peru Hop I hear you ask? Well, after trolling the internet trying to find the cheapest, easiest and most importantly, safest way to travel around Peru, 'Peru Hop' came out resoundingly on top. This is a company set up by travellers, with travellers in mind and it really shows! 'Peru Hop' is a hop-on hop-off service which takes you directly to all the major hotspots Peru has to offer, and even providing free tours along the way! Additionally, they provide great advice and discounts booking hostels and extra tours on your journey. There are several ticket options available, we went for the 'Full South to Cusco' ticket which starts in Lima and travels down through Paracas, Huacachina, Nazca, Arequipa, Puno and finally to Cusco. The buses are well maintained, comfortable, with in-house charging ports and entertainment for some of the insanely long journeys. Although they are a bit pricier than the average Peruvian bus, from my research, it's my opinion you make up for it in time and effort saved as many of the local buses don't go direct to each destination, so you often have to navigate several buses or get taxis from bus depots to reach your destination. You may think you want the authentic South American experience of being crammed on a hot sticky bus with a chicken on your lap, while the bus driver takes the corners like he's on the F1 track, but trust me, having to commit to multiple lengthy journeys, the novelty will fast wear off! If you're planning a trip to Peru in the near future check out their easy to use website here for more info: https://www.peruhop.com
Our Journey…
There's so much to see and do in Peru, we really are spoilt for choice! I'd be here all day if I listed everything and I'd leave myself nothing to write about then I get there so here are a few things on our Peru Must-Do Bucket List:
Trek the Inca Trail to Machu Picchu
Ballestas Islands – the poor man's Galapagos
Go sand-boarding in Huacachina
Trek rainbow mountain, Vinicunca
Take a Llama / Alpaca selfie (preferably without getting spat at) –  It has to be done!
Visit the floating islands of Uros
See the Andean Condors at Colca Canyon
See the Nazca Lines
Try Peru's national dish, Ceviche and their national drink Pisco Sour
Visit the Amazon Rainforrest
Look out for the extensive must see, do and eat list in Peru upon my return! After all, you have to do your market research first right?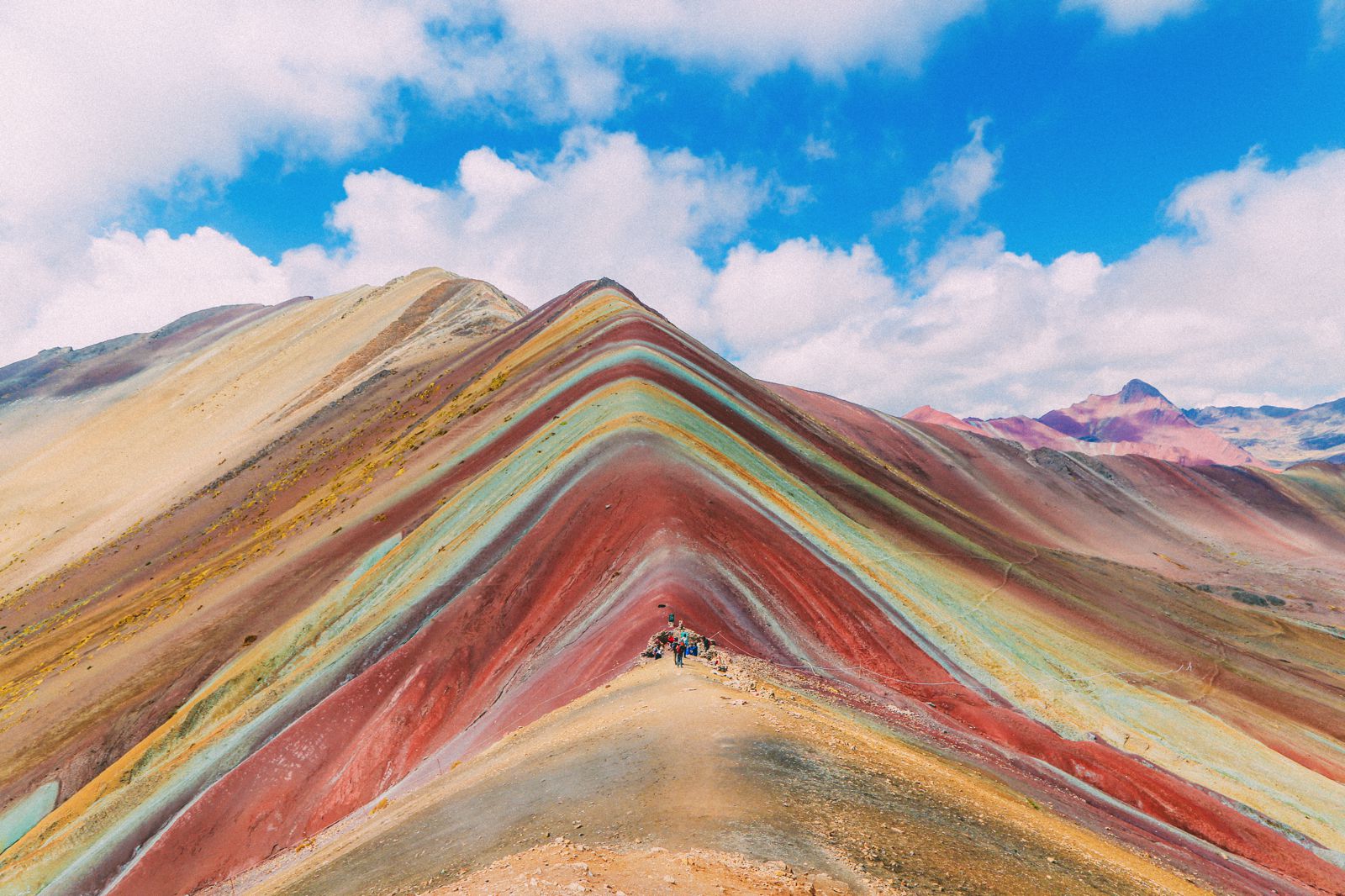 Many of these trips we pre-booked with 'Find Local Trips' – a site recommended through 'Peru Hop'  who provide great, safe tours for a fair price to both you and the local people by cutting out the profiting middle man. I was sceptical, so I did my research and the prices they offer match up to those people have reported paying the locals when they get there. I love that I know what I'm getting with these guys and that I'll be working with safe, reputable companies who will see the benefit of their good work. These guys not only work in Peru but in other parts of South America too, check out what tours they have on offer here: https://www.findlocaltrips.com
So that's all from me for now, the next time you hear from me I'm hopefully going to be ticking some things off my Peru Bucket List! If you're bored in the meantime, check out some of my other blog posts!
Please note the photos in this post are not my own (of course…I haven't been yet!) and all have the copyright source in the caption. *** Featured Image copyright to Joker.be ***